What Are The Top Features Of Water Pump Bearings Offered By Leading Manufacturer In Gujarat?
Posted by Admin on August, 31, 2023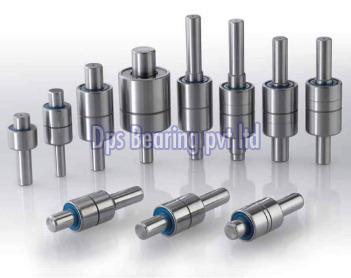 Water pump bearing is a very important part of various machines. It is used to circulate different types of liquid and ensure the smooth functioning of countless applications. These parts help in maintaining the life of water pumps. Also helps serve automobile and industrial manufacturing. Water Pump Bearing Manufacturer in Gujarat are presenting high-quality products to fulfill the demand of various industries. To get them delivered to your space with a certification of quality.
What is the importance of Water Pump Bearing?
Water bearings help the shaft of the water pump while maintaining its rotation. High temperatures, high speed, and varying loads are some of the harsh conditions these bearings must face. But still, they sustain their performance. Some of the efficient qualities you can expect in every piece bought from a Water Pump Bearing Manufacturer In Gujarat.

Durability: Top-quality manufacturers use best quality materials like chrome steel, stainless steel, and even ceramic to enhance the bearings' resistance qualities to wear and corrosion.
Heat Resistance: Exposure to high temperatures is common. So, the manufacturers ensure that the bearings can handle any conditions without compromising the performance.
Precision Engineering: They invest in advanced manufacturing processes with quality control measures, so every piece comes out with precision engineering.
Lubrications: Some innovative bearing designs them come with this unique technology to enhance efficiency and extend their lifespan.
Noise and Vibration Reduction: High-quality bearings are made with minimum noise and vibrations. Hence, these can be essential in places where noise pollution can be damaging.
Qualities of Top Water Pump Bearing Manufacturers
Research and Development: Leading manufacturers do spend immense in research and development to dedicatedly improve their bearing designs. They collaborate with brilliant and experienced engineers and experts in the field to develop innovative solutions that enhance the performance and longevity of their bearings.
Quality Control: The best manufacturers in Gujarat prioritize quality control at all stages of the bearing manufacturing process. They employ strict and thorough testing procedures that help get each bearing to meet or exceed industry standards for durability and performance.
Broad Product Range: One can easily find a wide range of products at leading manufacturers as they offer a wide range of water pump bearings for diverse industries and applications. This helps any person to find the perfect bearing solution for their specific needs.
Customer Support: Excellent 24/7 support is the best feature of top manufacturers. They offer all types of assistance like technical assistance, guidance, and after-sales support. This is how they ensure that their customers get the most out of their products.
Reputation and Certification: Once you find a leading water pump bearing manufacturer in Gujarat you can stay relaxed. they often hold certifications such as ISO 9001, which demonstrates their commitment to quality and customer satisfaction.
Don't forget to read reviews of previous customers to buy a reasonably priced product with all the required features. For any industry, the manufacturers have the best solution engineered with precision. They fulfil even customised and bulk order demands.
This entry was posted on August, 31, 2023 at 13 : 19 pm and is filed under Water Pump Bearing. You can follow any responses to this entry through the RSS 2.0 feed. You can leave a response from your own site.