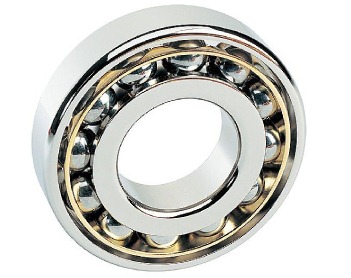 Bearings are used in a wide range of light-duty and industrial equipment, from little grocery trolleys to large power plants.
Bearings from a Ball Bearing Manufacturer In Gujarat, are an important tribological element of so many kinds of equipment, and they come in a range of shapes and sizes. They are described as a machine element that supports/allows only a single sort of motion (degrees of freedom constraint) in a system that could be static or dynamically loaded.
A sliding door is one example. The door can't be pushed or lifted out of place. It can only be opened by sliding. Bearings restrict the amount of movement that can be done.
Purpose of Bearings:
The primary function of bearings is to effectively prevent metal-to-metal contact between two moving parts. Friction, heat buildup, and, eventually, part wear and tear are avoided. It also saves energy since it replaces sliding movement with low-friction rolling.
Bearings from a Ball Bearing Supplier In Gujarat, also transfer the rotating element's weight to the housing. This load could be radial, axial, or a mix of the two. As previously mentioned, bearings restrict the free movement of mechanical components to prescribed directions.
Types Of Bearings:
● Spherical Roller Bearings -
Despite continual vibration, misalignment, and stress distribution, spherical roller bearings from Ball Bearings Supplier In Gujarat, sustain the most significant challenges by preventing seizure and wear. They're dimensionally stable and can withstand large radial and mild axial loads. Incredibly tight radial separation tolerances, extra accuracy on the hole as well as outside dimension, and super-finished, heat-treated rollers with enhanced shock load capacity are among their efficiency upgrades.
● Needle Roller Bearings -
Regardless of the angle of the force they support, needle roller bearings are classed as radial as well as thrust. Needle bearing from Ball Bearing Exporter In India generally are 3 to 10 times lengthier than their radius and can handle a lot of radial load. Automotive transmissions and A/C units are examples of applications that use Needle Roller Bearings.
● Tapered Roller Bearings -
As a load-carrying device, the tapered roller bearing incorporates parts of a cone. Those rollers slide across the two races, which are also hollowed cone portions. If the roller courses and axes were stretched, they would all converge at the same spot.
Aside from radial stresses, tapered roller bearings are intended to accommodate increased axial loads. The greater axial load this conventional cone can withstand, the greater the half-angle. As a result, they serve as both thrust and radial load bearings.
Final Words:
One of the most prevalent types of bearings is the ball bearing. As for rolling elements, it comprises a row of balls. They're wedged among two metal annulus shapes. Races are the name for these metal bits. While the inner race rotates freely, the outside race remains motionless.
Ball bearings have quite a low friction coefficient when rolling, but their load-carrying capability is restricted. Because of the narrow contact zone between both the balls as well as the races, this is the case. Apart from radial loads, they could sustain axial forces in 2 ways.